Information

About CYGNUS


Venue


Important Dates


Organizing committeies


Contact
Links

CYGNUS2011


CYGNUS2009


CYGNUS2007
Sponsor
What's new
13/06/2013 Instruction for proceedings.(Dead line September 23, 2013)
10-12/06/2013 CYGNUS 2013 was held. Photo gallery.
07/06/2013 Here is the restaurant for workshop dinner.
05/06/2013 Abstract book is ready.
31/05/2013 Information for participants
29/05/2013 Scientific program is up
08/03/2013 Registration page open
15/12/2012 Web page open

We removed some workshop photos. We apologize to those who had unpleasant feeling by viewing the inappropriate images on our webpage. We also apologize for the activity during the workshop that was shown in the photos. The CYGNUS community would like to be open to any scientist who is inerested in direction-sensitive dark matter detection.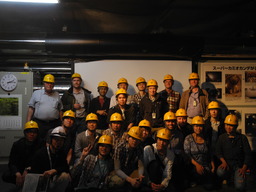 CYGNUS
The 4th CYGNUS workshop on directional dark matter detection organized by Japanese directional dark matter search communitiy is held at Toyama (Entrance of Kamioka), from June 10-12, 2013. This international conference will bring together the scientific community working on both theoretical and experimental aspects of directional dark matter detection and the galactic dark matter distribution. Directional detection of galactic Dark Matter is a promising search strategy for discriminating genuine WIMP events from background ones. In this conference we focus on : technical progress on gaseous detectors, data analysis (3D, sense recognition, ...), experimental results from directional prototypes, phenomenological studies, dark matter halo dynamics. CYGNUS 2013 is the 4th in a series of directional dark matter detection workshops. The original meeting, CYGNUS 2007 was held at the Boulby Underground Laboratory in the UK. The second, CYGNUS 2009, was held at MIT in Cambridge, Massachusetts, in June 2009, and CYGNUS 2011 was held at Aussios (France), from June 7-10, 2011.
Venue
The 4th CYGNUS workshop will be held in Toyama, Japan at OARKS CANAL PARK HOTEL TOYAMA, located central Toyama city, from 10 June to 12 June, 2013.

Important Dates
31 Mar. 2013 : Deadline of hotel reservation by LOC
17 May. 2013 : Deadline of abstract submission
10 Jun 2013 : CYGNUS2013 Workshop

Local Organizing committee
K. Miuchi (Kobe Univ.)
T. Naka (Nagoya Univ.)
A. Takeda (ICRR, Univ. of Tokyo)
H. Sekiya (ICRR, Univ. of Tokyo)
K. Nakamura (Kyoto Univ.)
K. Hosokawa (Kobe Univ.)
International Organizing committee
James Battat, Ioannis Giomataris, Anne Green, Igor Irastorza, Frederic Mayet, Kentaro Miuchi, Jocelyn Monroe, Tatsuhiro Naka, Daniel Santos, Daniel Snowden-Ifft, Neil Spooner, Dinesh Loomba, Sven Vahsen
Contact
Please send E-mail to both: cygnus2013

gmail.com and cygnus2013_loc

googlegroups.com

Go to top of page